Image: Matt Smith/Foundry
4K resolution is going mainstream—even among PC monitors. Delivering a pixel count four times higher than a 1080p display, 4K provides a massive and obvious improvement to image quality. It's useful not only in games and movies but also when editing documents or browsing web pages. The extra pixels make text look clear and crisp.
After extensive testing, I've determined that these are the best 4K monitors available today, covering a variety of budgets and use cases. If you're looking for additional options, see our roundups of the best monitors overall, the best gaming monitors, and the best monitor deals. 
Updated 09/20/2023: Check out our latest review of the Innocn 27M2V monitor. This excellent 27-inch 4K display from newcomer Innocn gets top marks in image quality and comes with a price that can't be beat.
Dell U3223QE – Best 4K monitor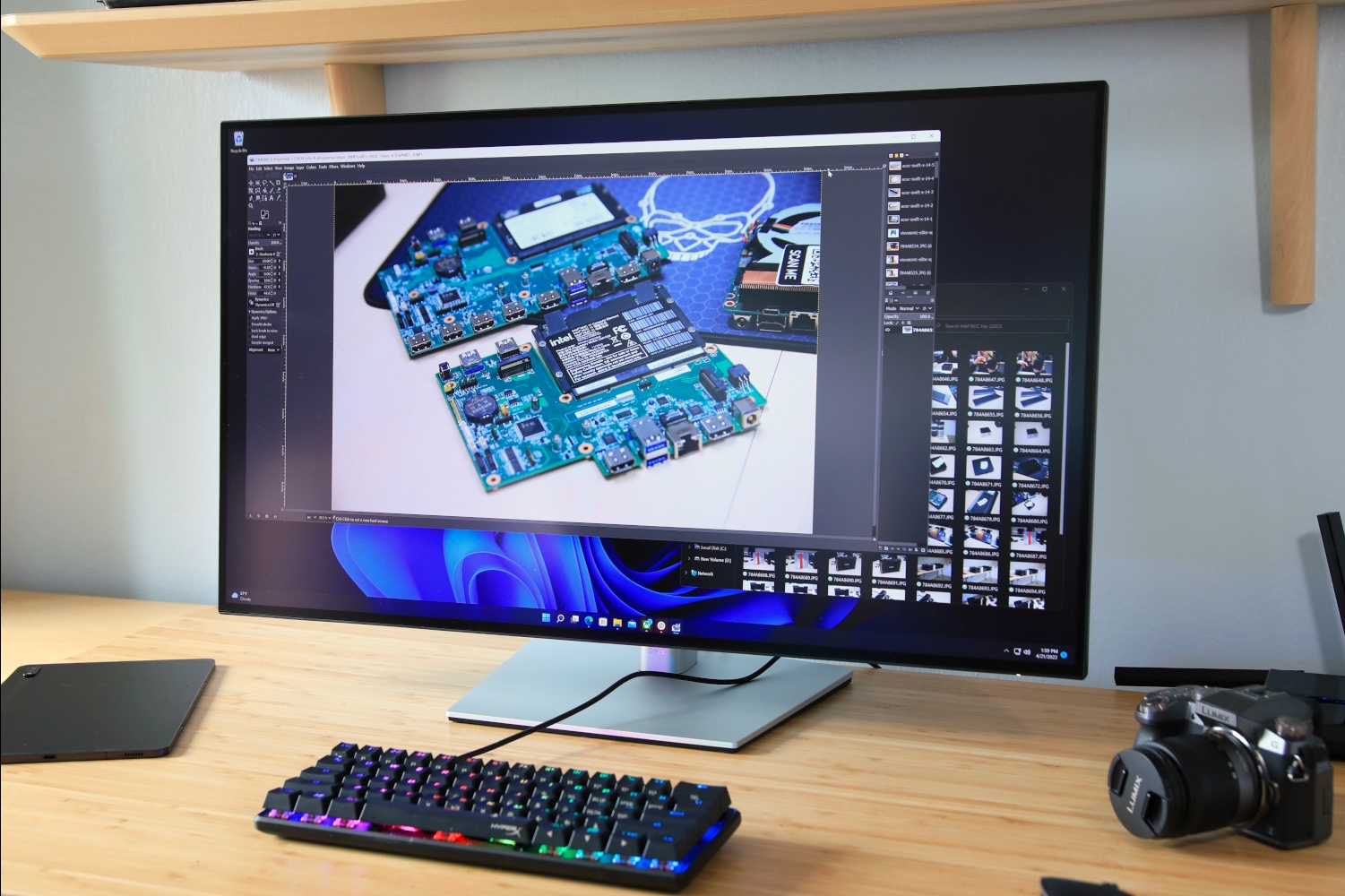 Pros
IPS Black panel fulfills its promise 
Accurate color with wide gamut 
High brightness in SDR  
USB-C hub with 90 watts of power 
Cons
Edges of display are noticeably bright 
HDR performance disappoints 
Only a 60Hz panel 
Price When Reviewed:

$1,149.99
The Dell U3223QE, which also tops our list of the best monitors overall, is an excellent 4K monitor for professionals and everyday users who want excellent image quality. 
Technology is what sets this monitor apart. It has a new IPS Black panel that offers roughly twice the contrast of computer monitors with older IPS panels. This provides a richer image with a better sense of depth and darker black levels in dark scenes. The U3223QE also has a high maximum brightness and excellent color performance with high color accuracy. Images are vibrant and true to life. 
Yet there's more to the Dell U3223QE than image quality. It's also a versatile USB-C hub monitor with up to 90 watts of Power Delivery. The built-in hub has multiple USB-A ports, Ethernet, and even DisplayPort out. 
This is a 32-inch 4K monitor, which may be too large for some desks. Dell also has a 27-inch model, the U2723QE, which offers 4K resolution and the same IPS Black panel. We haven't reviewed that model but expect it will deliver similar performance.
Read our full

Dell U3223QE review
Asus ProArt PA279CV – Best budget 4K monitor for creatives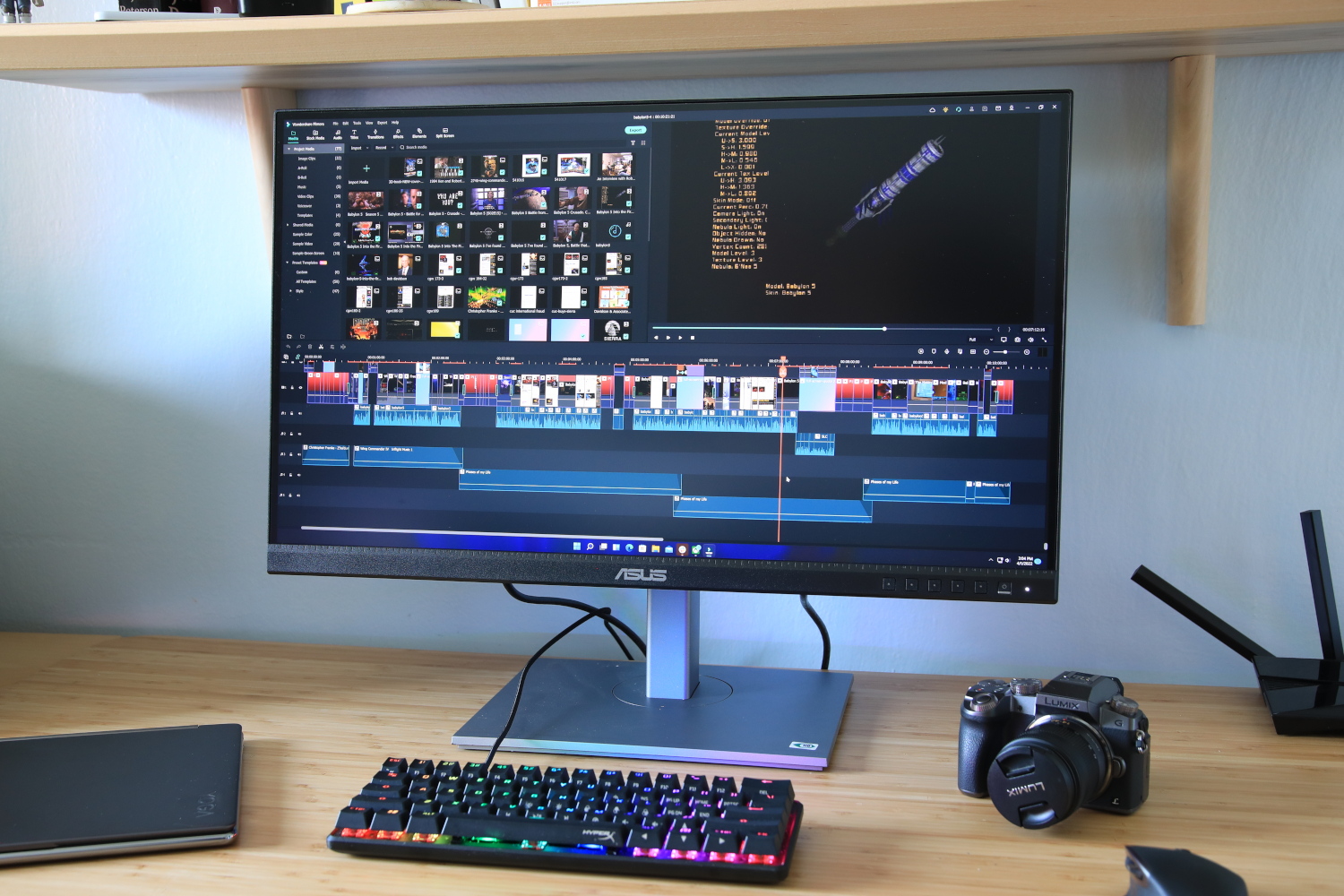 Pros
Accurate image
High maximum brightness
Menu settings allow calibration
Has USB-C with 65 watts Power Delivery
Competitive price
Cons
Unimpressive design
Luminance uniformity could be better
HDR is bright but otherwise falls short
Price When Reviewed:

$499
Want a great 4K monitor, but need to spend less than $500? The Asus ProArt PA279CV is an excellent choice.
The ProArt PA279CV is a 27-inch 4K monitor that targets entry-level professional use. It has excellent color accuracy, high maximum brightness, and a good contrast ratio for an IPS monitor. 
This monitor also throws in USB-C connectivity. It's not a great USB-C hub, as it has only a couple USB-A ports, but it offers 65 watts of Power Delivery for charging a connected laptop or tablet.
Asus throws in adaptive sync support compatible with AMD and Nvidia video cards. This prevents screen tearing and provides smooth motion in 3D games. The monitor has a maximum refresh rate of 60Hz. 
The ProArt PA279CV carries an MSRP of about $500, but that price can swing significantly lower when retailers run a sale. We recommend waiting for a discount if possible.
Asus ROG Swift PG32UQX – Best budget 4K monitor for gaming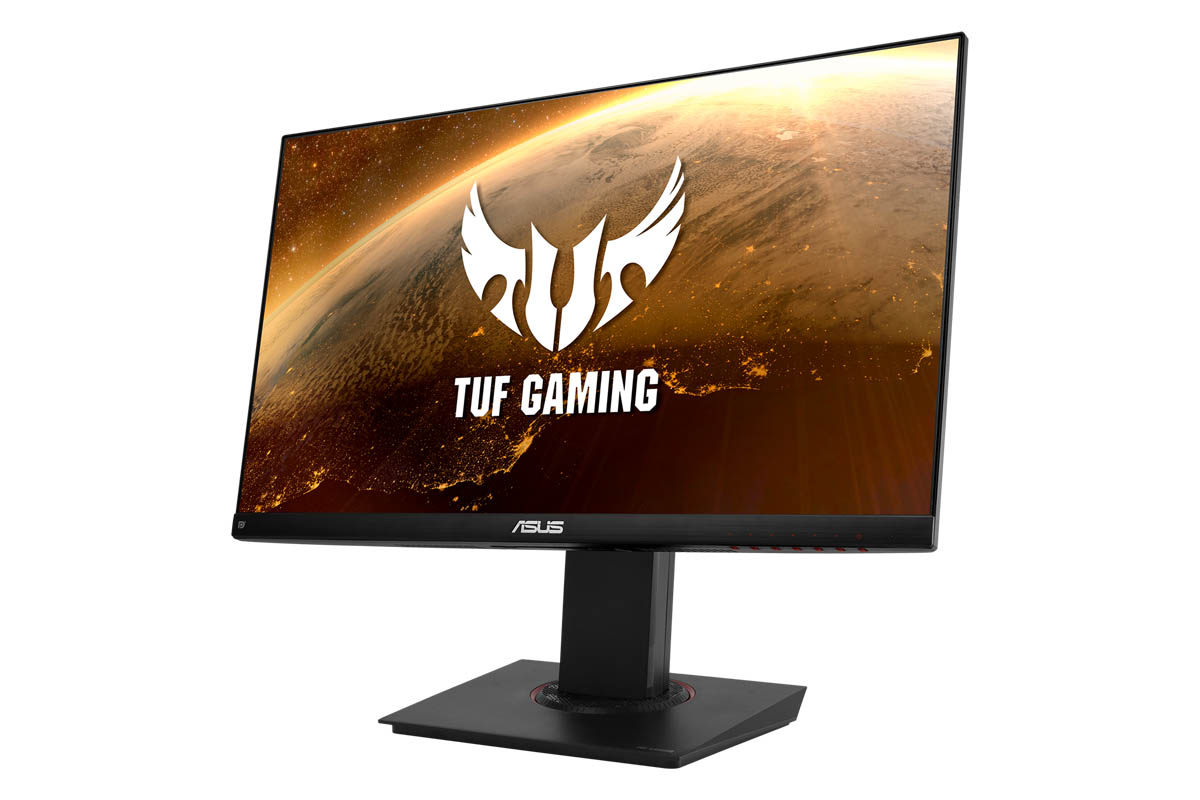 Pros
4K resolution
Good gaming performance
Tons of ergonomic adjustment options
Inexpensive 
Cons
A relatively low 60Hz refresh rate
Price When Reviewed:

399.99
For gamers who enjoy stunning graphic detail and slower paced games the focus shouldn't be on refresh rate, but image quality and high resolution. The Asus TUF Gaming VG289Q gives you both. It is a 28-inch 4K display with a refresh rate of 60Hz and adaptive sync making it compatible with both FreeSync and G-Sync. It's also modestly priced at only $400 which is a bargain for a 4K display.
The refresh rate is quite low for something branded as "gaming", but if you aren't planning to play quick e-sports or shooter games, then you won't have to worry about it. It provides you with outstanding image quality and a vivid color range that more than makes up for the middling refresh rate.
The Asus TUF Gaming VG289Q delivers on that in most aspects for gamers. But in the end, it's all about getting a budget friendly 4K display and in that aspect this monitor delivers exceptional value.
Read our full

Asus TUF Gaming VG289Q review
Samsung M8 Smart Monitor – Best 4K monitor for entertainment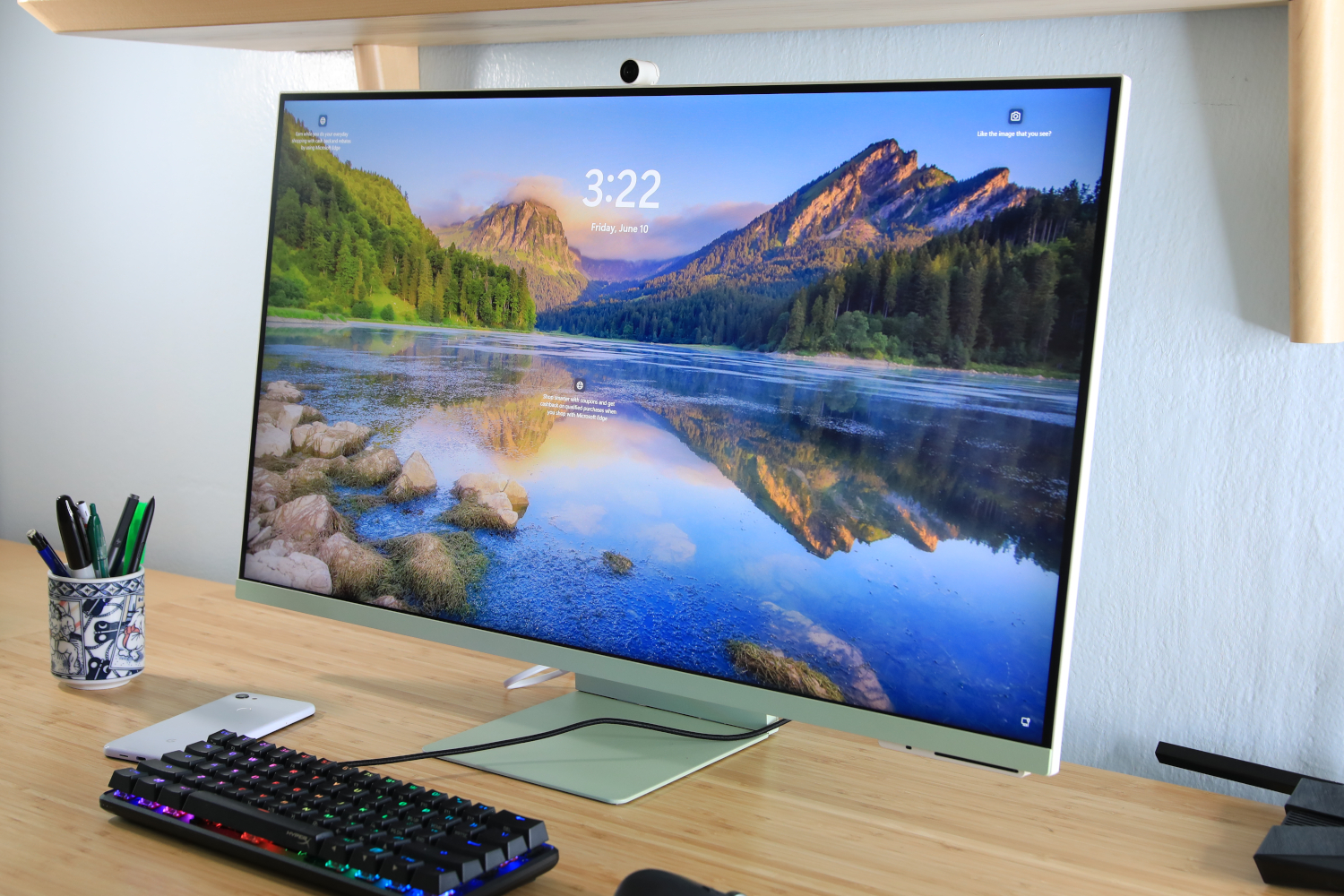 Pros
Has Samsung's Tizen OS with smart TV features
Remote, webcam, and speakers included
Excellent SDR image quality
HDR quality is good for the price
Cons
Limited connectivity
Annoying to set up and access some features
No adaptive sync or enhanced refresh rate
Narrow viewing angle
Price When Reviewed:

$729.99
A 32-inch 4K monitor is great for everyday PC tasks like web browsing and document editing, but it can be more than that. Monitors in this category are an ideal substitute for a television in a small mixed-used space like a studio apartment, rented room, or dormitory. 
Samsung's M8 Smart Monitor leans into this by fusing the features of a Smart TV with a traditional 32-inch 4K monitor. The monitor comes with a remote and runs Samsung's Tizen operating system. You can access streaming content, like Netflix or Hulu, directly from the monitor.
Yet this is still a great PC monitor. A connected PC or other external device can be used by flipping the input source, as you would on a television. Image quality is solid with excellent sharpness, top-tier contrast, high brightness, and attractive color performance. 
The monitor also comes in a variety of attractive stand and bezel color options, with a detachable webcam, and has a USB-C port with up to 65 watts of Power Delivery. It supports Bluetooth 4.2 and Wi-Fi 5, too.
Read our full

Samsung M8 Smart Monitor review
Dell G3223Q – Best 4K 144Hz monitor
Pros
Bright, sharp SDR image
Good color gamut and accuracy
Solid build quality and ergonomic stand
Great motion clarity at 120Hz or 144Hz
Cons
Disappointing HDR performance
Odd menu choices for creators 
Modest USB connectivity
Price When Reviewed:

$1099
Want a 4K monitor with a high refresh rate for smooth gaming? The Dell G3223Q is an excellent option. 
The G3223Q is a 32-inch, 4K monitor with a maximum refresh rate of 144Hz and support for AMD FreeSync Premium Pro (Nvidia G-Sync also works, unofficially). You can play games at high refresh rates with no screen tearing and smooth frame pacing. 
You'll find two HDMI 2.1 ports on the rear. They're great for connecting a PlayStation 5 and Xbox Series X game console, since you can play at each console's maximum resolution and refresh rate. There's also a DisplayPort input for connecting your PC. 
None of this would matter if the G3223Q's image quality wasn't excellent—but it is. The monitor has great color performance, high brightness, good contrast, and a razor-sharp image thanks to its 4K resolution. 
It's a good value, too. The G3223Q is towards the low end of pricing for a 32-inch, 4K 144Hz monitor but doesn't sacrifice features or build quality to achieve it.
Read our full

Dell G3223Q review
Asus ROG Swift PG32UQX – Best 4K HDR monitor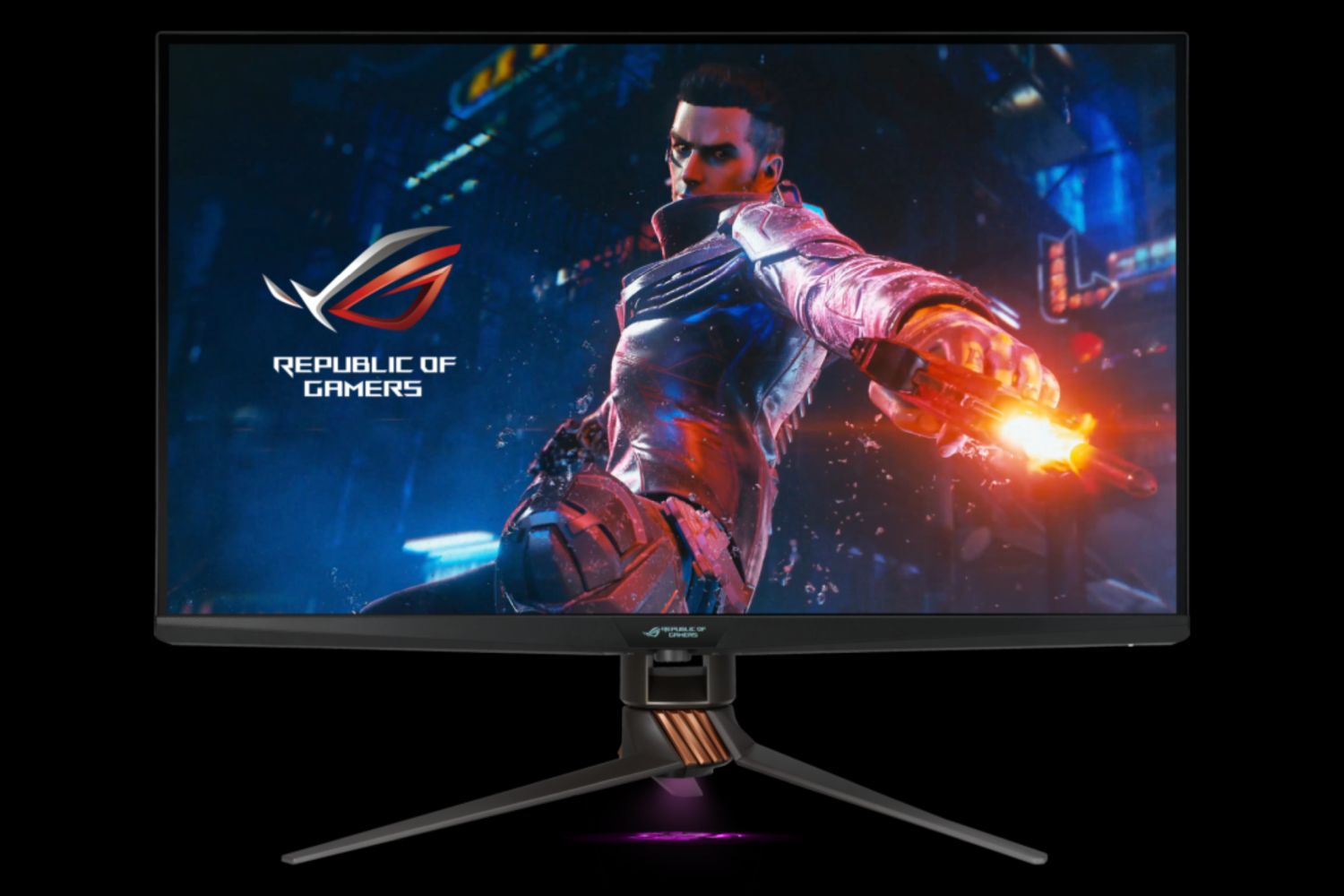 Pros
Excellent gaming performance
4K resolution
Dimmable mini-LED backlight
Ergonomic adjustment options
Cons
High power consumption
Extremely expensive
Price When Reviewed:

$2,999
Want the last word in high-resolution, high-definition gaming and entertainment? You need a fantastic HDR monitor like the Asus ROG Swift PG32UQX.
This monitor has a Mini-LED backlight with 1,152 independent backlight zones. The backlight greatly improves the monitor's contrast ratio and achieves eye-searing levels of brightness in small areas of the display. The monitor's maximum sustained brightness is exceptionally high, as well. 
As a result, the PG32UQX delivers excellent detail in bright areas of the screen while maintaining good contrast and black levels in darker scenes. It also has exceptional color, which further contributes to a great HDR experience. Overall HDR performance rivals the best HDTVs and blows away most HDR monitors.
This is also a 4K 144Hz monitor with support for Nvidia G-Sync Ultimate. HDMI 2.1 is missing, but Xbox Series X|S consoles can achieve 4K 120Hz over HDMI 2.0 through a chroma subsampling mode. 
The only problem? You can expect to pay up to $3,000 for this monitor. Viewsonic's XG321UG is a less expensive alternative that performs similarly, though it lacks 4K 120Hz support on Xbox Series X|S.
Read our full

Asus ROG Swift PG32UQX review
Asus ProArt Display OLED PA32DC – Best 4K monitor for professionals
Pros
The best SDR image quality yet
Good HDR performance
Long list of image quality features
Exceptionally sturdy
Numerous inputs, plus USB hub
Cons
HDR brightness could be better 
Glare can be an issue in bright rooms
Only 60Hz, no adaptive sync
Price When Reviewed:

3,499
Most professional monitors support 4K resolution, but the Asus ProArt Display OLED PA32DC stands above the pack.
The secret is in the OLED panel. OLED looks fantastic, of course, with excellent contrast, a wide color gamut, and superb color accuracy. What sets the PA32DC apart from less expensive OLED monitors, though, is its use of a conventional RGB subpixel layout. This delivers the best clarity on modern PCs and prevents the color fringing issues that can appear on competitors that use QD-OLED display panels. 
Asus provides a long list of image quality presets and options. The monitor has built-in modes for sRGB, DCI-P3, Rec. 709, and AdobeRGB, among others. It also includes multiple, accurate color temperature and gamma modes. A built-in colorimeter can be used to precisely calibrate color accuracy. 
The monitor is built for use in a variety of professional settings. It's a rugged, beefy display with thick bezels and a built-in carrying handle to help with transportation. A standard VESA desk stand is available for use in an office or at home, and the monitor has built-in legs for easy setup at a mobile studio or jobsite. 
Priced at $3,000, the PA32DC may seem expensive, but it undercuts competitors like the LG UltraFine 32EP950, Apple Pro Display XDR, and Asus' older ProArt OLED displays. This is a top-notch professional monitor suited to a wide range of content creation, and those who need excellent color performance will find that it's well worth the price.
Read our full

Asus ProArt OLED PA32DC review
What to look for in a 4K monitor
4K monitors are more expensive than other monitors, so they pack numerous features and a quality display panel. A typical 4K monitor will have features that are optional on a 1080p monitor. Still, there are a few details you should know before buying a 4K monitor.
USB-C
USB-C is an excellent choice for connecting a 4K monitor to a modern laptop with USB-C or Thunderbolt. USB-C can bundle Power Delivery and DisplayPort Alternate Mode, which means the monitor can charge a connected device while it outputs video to the monitor. Some monitors, like the Dell U3223QE, are USB-C hubs that expand connectivity for the connected device.
Refresh rate
Most 4K monitors have a 60Hz refresh rate. Those that go beyond 60Hz may only support an enhanced refresh rate over a specific port, so be sure to check the specifications. A monitor will need to support HDMI 2.1 or DisplayPort 1.4 to handle 4K at up to 144Hz. 
HDR
Many 4K monitors support HDR, but most offer lackluster HDR performance. HDR will function, and may look better than SDR, but won't approach the quality of a good HDTV. If you want quality HDR, look for a minimum of VESA DisplayHDR 1000 certification (or VESA DisplayHDR True Black).
How we test 4K monitors
We test 4K monitors with a DataColor SpyderXElite color calibration tool. It provides objective measurements for contrast, brightness, black levels, color gamut, color accuracy, and gamma, among other metrics. These objective results can be compared with other monitors to see how each performs against the competition.
These objective image results are supplemented with our subjective evaluation of a monitor. We evaluate out-of-box image quality, sampling all types of content from gaming to movies. We look at the feature set. We closely consider details like a monitor's on-screen menu, ergonomic stand (or lack thereof), and overall build quality. 
FAQ
---
1.
Does a 4K monitor need HDMI 2.1?
HDMI 2.1 is only important if you want to connect a PlayStation 5 or Xbox Series X game console at 4K resolution and play titles with 120Hz support. These consoles only support HDMI output, so an HDMI connection is your only option.
Most desktop PCs and laptops also have a DisplayPort output. This is preferable to HDMI 2.1 because it supports higher resolutions and refresh rates, so HDMI 2.1 is not necessary to connect a PC.
2.
Can my PC handle a 4K monitor?
Support for 4K video output went mainstream around 2015. If you have a computer newer than 2015, odds are high that it supports 4K. Most PCs sold prior to 2015 will not support 4K. 
Want to be sure? Our guide to checking what graphics card you have will help identify your PC's graphics hardware. You can then reference its official specifications to find its maximum supported resolution.
Gamers be warned: 4K resolution is demanding in 3D games, so you may struggle to see smooth gameplay unless you have the latest graphics hardware. You'll need at least an Nvidia RTX 3070 or AMD Radeon RX 6800 to play the latest titles at 4K and 60 frames per second.
3.
Is text too small on a 4K monitor?
Early adopters of 4K monitors often struggled to read small text. That's because many older applications were programmed such that interface elements have a defined, concrete size in pixels. The higher a display's resolution, the smaller the interface appears. 
Thankfully, this problem is mostly solved. Windows and MacOS have excellent text scaling options and most software developers have updated their applications to properly support 4K displays. It's still a problem with very old apps that were never updated but, in general, it's rare to see tiny, unreadable text on a 4K monitor.
Matthew S. Smith is a freelance technology journalist with 15 years of experience reviewing consumer electronics. In addition to PCWorld, his work can be found on Wired, Ars Technica, Digital Trends, Reviewed, IGN, and Lifewire. Matthew also covers AI and the metaverse for IEEE Spectrum and runs Computer Gaming Yesterday, a YouTube channel devoted to PC gaming history.