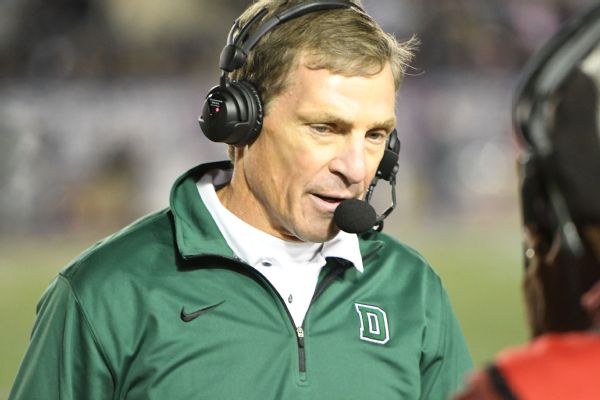 Adam Rittenberg, ESPN Senior WriterSep 19, 2023, 09:43 PM ET

College football reporter.
Joined ESPN.com in 2008.
Graduate of Northwestern University.
Dartmouth football coach Eugene F. "Buddy" Teevens, who introduced innovative methods to make the sport safer, died Tuesday as a result of complications from injuries sustained in a March bicycle crash. He was 66.
Teevens, Dartmouth's all-time winningest coach, had two stints as head coach at his alma mater, going 117-101-2 with five Ivy League championships.
In March, he was struck by a truck while riding his bicycle in Florida. He sustained spinal cord injuries, and his right leg had to be amputated.
Dartmouth announced in May that assistant Sammy McCorkle would serve as interim coach during the 2023 season. Teevens moved to Boston over the summer to continue his rehabilitation from the accident.
"Throughout this journey, we consistently relayed the thoughts, memories, and love sent his way," Teevens' family said in a statement released through Dartmouth. "Your kindness and letters of encouragement did not go unnoticed and were greatly appreciated by both Buddy and our family. We are confident and take comfort in the fact that he passed away knowing how much he was loved and admired."
McCorkle and athletic director Mike Harrity informed the team of Teevens' death after Tuesday's practice. Teevens had overseen the program since 2005 and also from 1987 to 1991. He led Dartmouth to shared Ivy League championships in 1990, 2015, 2019 and 2021 and an outright title in 1991.
In 2010, he became the first coach to eliminate full-contact practices throughout the year, a method adopted throughout the Ivy League in 2016. Teevens' efforts led Dartmouth's engineering school to create the Mobile Virtual Player, a robot tackling device used by other college teams and in the NFL.
"His impact both on college football and the NFL has been enormous," NFL commissioner Roger Goodell said of Teevens during the 2023 NFL draft. "He has been a leader in making our game safer through breakthrough innovations. He is a pioneer in hiring female coaches, two of whom are currently coaching in the NFL."
Teevens first became a head coach at Maine in 1986 and held two such FBS jobs, at Tulane and Stanford, where he went a combined 21-68 overall.
He played quarterback at Dartmouth and earned Ivy League Player of the Year honors in 1978, when the Big Green won the conference title. Teevens also played hockey at the college.
Dartmouth will hold a moment of silence for Teevens before this week's home game against Lehigh.
"This is tragic news for Dartmouth and the entire football world," Dartmouth president Sian Leah Beilock and Harrity said in a joint statement. "Buddy not only was synonymous with Dartmouth football, he was a beloved coach and an innovative, inspirational leader who helped shape the lives of generations of students."