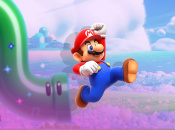 The first one begins 25th September
Super Mario Bros. Wonder arrives on the Switch next month, and in the lead-up, Nintendo is planning on offering some exclusive missions to Switch Online members located in Australia and New Zealand.
As highlighted by Vooks.net, these missions focus on Mario's classic 2D adventures – with the first mission scheduled to start on 25th September. There will then be a new mission every week until 22nd October and Nintendo will share more details about what to expect in the near future.
"The titles span across a selection of Super Mario 2D adventures in the Nintendo Switch Online classic games library!"
Anyone who participates will earn Platinum Points which they can then use on the My Nintendo Store to purchase physical and digital rewards. If we hear any other details about this event, or similar online missions elsewhere, we'll let you know.