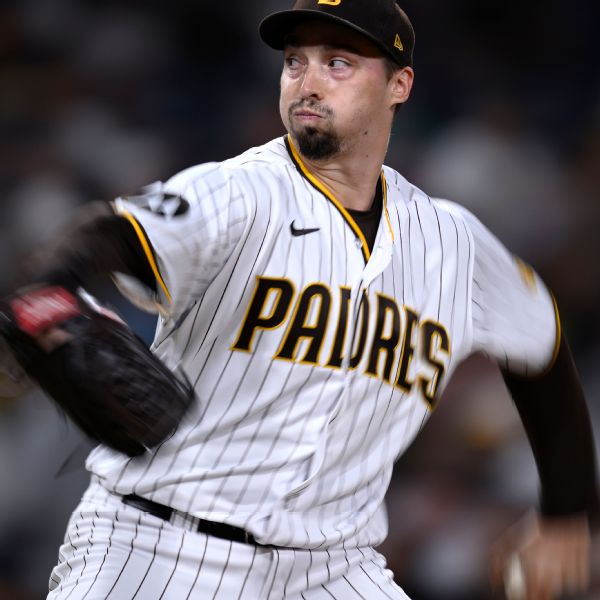 Sep 20, 2023, 12:55 AM ET
SAN DIEGO — If this was Blake Snell's final start for the San Diego Padres at Petco Park, it sure was a memorable one.
The National League Cy Young Award contender lowered his big-league-leading ERA to 2.33 and struck out 10 in seven brilliant innings for the Padres, who took a combined no-hitter into the ninth before beating the Colorado Rockies 2-0 on Tuesday night.
Snell, Robert Suarez and All-Star closer Josh Hader finished with a two-hitter. Xander Bogaerts hit a two-run homer with two outs in the ninth to lift the Padres to their season-high sixth straight win.
San Diego manager Bob Melvin said it wasn't a difficult decision to take out Snell after seven innings.
"He was pretty realistic. He even said to me, 'It's going to be tough for me to finish nine.' Over 100 pitches, seven innings, pretty good inning. It wasn't that tough," Melvin said.
Snell, who has never gone eight innings in the majors, threw 104 pitches before making way for Suarez, who worked a perfect eighth. Hader (1-3) came on to start the ninth and promptly allowed Brendan Rodgers' leadoff single up the middle.
"It's just going to be a lot of pitches," Snell said when asked if he had wanted to go longer. "I'm a guy that understands my body really well and understands the risk-reward of injury with pushing it. With how hard I was throwing today, it's not worth it."
"I understand a no-hitter's an amazing accomplishment," the 30-year-old lefty added. "It's so hard to do. I understand that. I also understand how much I value health. It's an individual accolade. It's cool for the team, we get a no-hitter, but it's cool when the bullpen comes in and you trust them."
Snell walked four to increase his major-league-high total to 95.
"Fastball-changeup was really good. The curveball was a good put-away pitch," he said. "I didn't use the slider that much. I didn't feel I needed to. I just had a good mix. The fastball sets up everything, and I was locating that pretty well."
Snell is trying to become the seventh pitcher to win a Cy Young Award in both leagues. He won the American League prize in 2018 with the Tampa Bay Rays.
"Got to finish the season," he said when asked how Tuesday night's start might help his cause. "I don't look at that. I've got my next start against San Fran. I've got to be ready for that, and they're a good team and they've got a lot to play for."
He is expected to pitch Monday night at the San Francisco Giants. He could then make a final start at the Chicago White Sox during the season's last weekend.
Snell is eligible for free agency after the season, and the Padres are extreme long shots to return to the playoffs. They have massively underperformed coming off an appearance in the NL Championship Series last year and with a $250 million payroll, third-highest in baseball.
The Padres are 5½ games out of the third NL wild-card spot, with four teams ahead of them and only 10 games left.
Center fielder Trent Grisham and right fielder Fernando Tatis Jr. both made nice running catches in the sixth to keep the no-hitter going, and Grisham made another nice grab in the seventh.
Joe Musgrove threw the Padres' only no-hitter on April 9, 2021, in his second start with his hometown team.
Bogaerts homered off Tyler Kinley (0-3) for his 19th of the season.
"I thought it might go foul. I squared it up pretty good for being out in front, but I wasn't sure," Bogaerts said.
Rockies right-hander Ryan Feltner made his first start since being placed on the injured list May 14 with a skull fracture. He was hit in the head by a line drive off the bat of the Philadelphia Phillies' Nick Castellanos the previous day.
Feltner allowed two runs in five scoreless innings while striking out five and walking two.
The Padres loaded the bases with one out in the eighth before Jurickson Profar, who recently rejoined the team after being released by the Rockies, grounded into a double play.
The Padres played without Manny Machado due to tennis elbow that has limited him to DH duty this month.