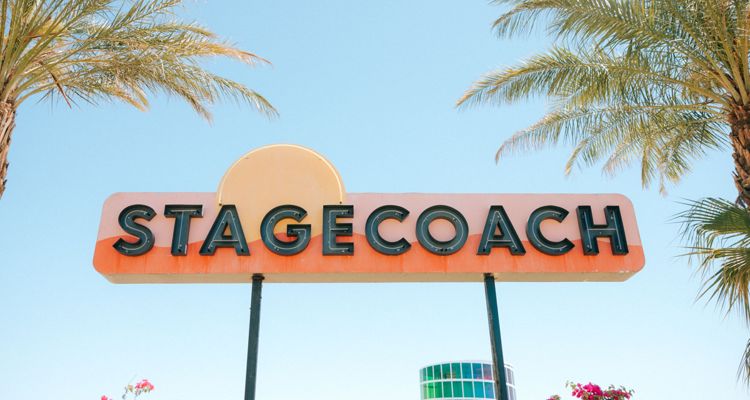 Stagecoach has announced its 2024 lineup with an interesting array of acts outside the country genre.
This year's festival will feature headline performances from Eric Church, Miranda Lambert, and Morgan Wallen. In addition, other performances will include Post Malone, Jelly Roll, HARDY, Willie Nelson & Family, Megan Moroney, Bailey Zimmerman, Leon Bridges, Dwight Yoakam, The Beach Boys, Elle King, and many more.
The festival will also host late-night performances by Diplo, along with Stagecoach newcomers Wiz Khalifa and Nickelback. Meanwhile, Posty will be performing a special set of country covers during his set for the festival.
Passes for Stagecoach 2024 will go on sale September 15 starting 11 am PT at the Stagecoach Festival website.
"I can't wait to get back to the desert to play Stagecoach in 2024. It's going to be one hell of a party," adds Eric Church.
"There is something so special about playing music when the sun goes down in the middle of the desert. The fans, the setup, the location—there really is no other festival like it. My band and I have had the chance to experience the magic that is Stagecoach a few times now, and we can't wait to be back in 2024!" adds Miranda Lambert.
"Stagecoach is such a legendary festival, and I am honored to be headlining the final night. I have so many friends who never miss it and I know this will be a monumental weekend for all of us. Can't wait to see everybody there."
Stagecoach 2024 Pass Prices
3-Day GA Tier 1 | $429
3-Day GA Tier 2 | $459
3-Day GA 6-pack | $449
3-Day GA Shuttle Combo Tier 1 | $519
3-Day GA Shuttle Combo Tier 2 | $549
3-Day GA Rhinestone Saloon | $799
Desert Diamond VIP Package | $2999
Gold Rush VIP Package | $1999
Hi Ho Silver VIP Package | $1499
Full Stagecoach 2024 Lineup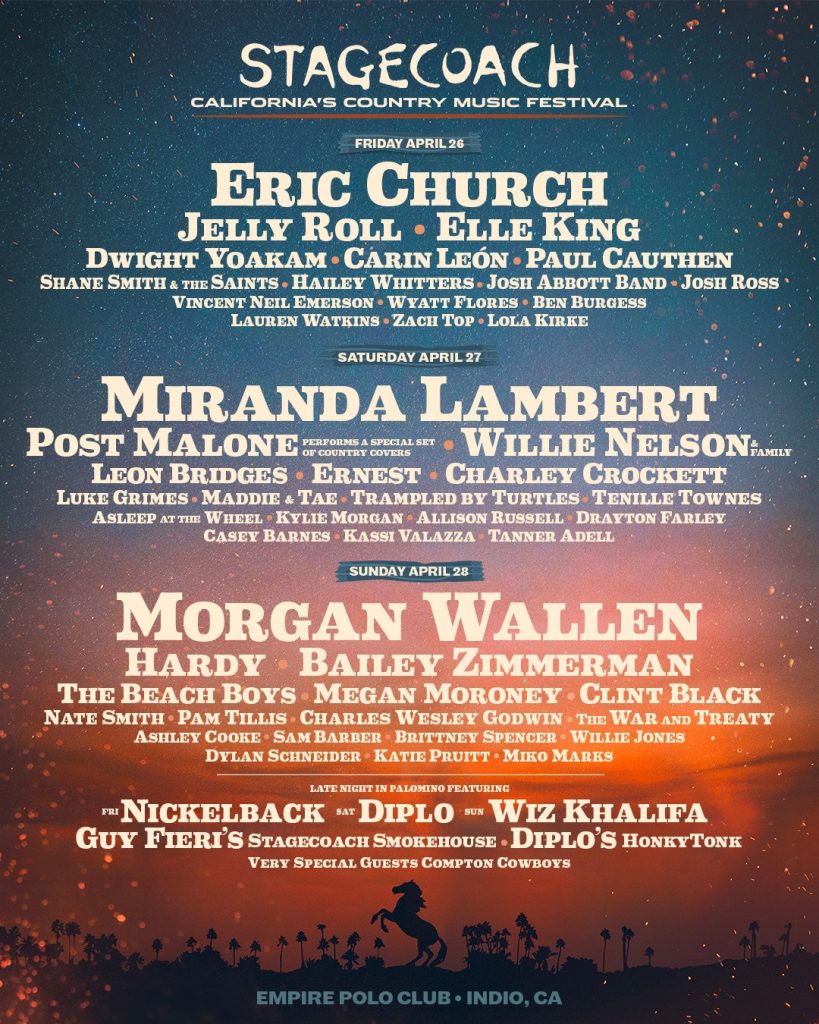 Allison Russell
Ashley Cooke
Asleep at the Wheel
Bailey Zimmerman
Ben Burgess
Brittney Spencer
Carin León
Casey Barnes
Charles Wesley Godwin
Charley Crockett
Clint Black
Diplo
Drayton Farley
Dwight Yoakam
Dylan Schneider
Elle King
Eric Church
ERNEST
Hailey Whitters
HARDY
Jelly Roll
Josh Abbott Band
Josh Ross
Kassi Valazza
Katie Pruitt
Kylie Morgan
Lauren Watkins
Leon Bridges
Lola Kirke
Luke Grimes
Maddie & Tae
Megan Moroney
Miko Marks
Miranda Lambert
Morgan Wallen
Nate Smith
Nickelback
Pam Tillis
Paul Cauthen
Post Malone (performing a special set of country covers)
Sam Barber
Shane Smith & The Saints
Tanner Adell
Tenille Townes
The Beach Boys
The War and Treaty
Trampled by Turtles
Vincent Neil Emerson
Willie Jones
Willie Nelson & Family
Wiz Khalifa
Wyatt Flores
Zach Top