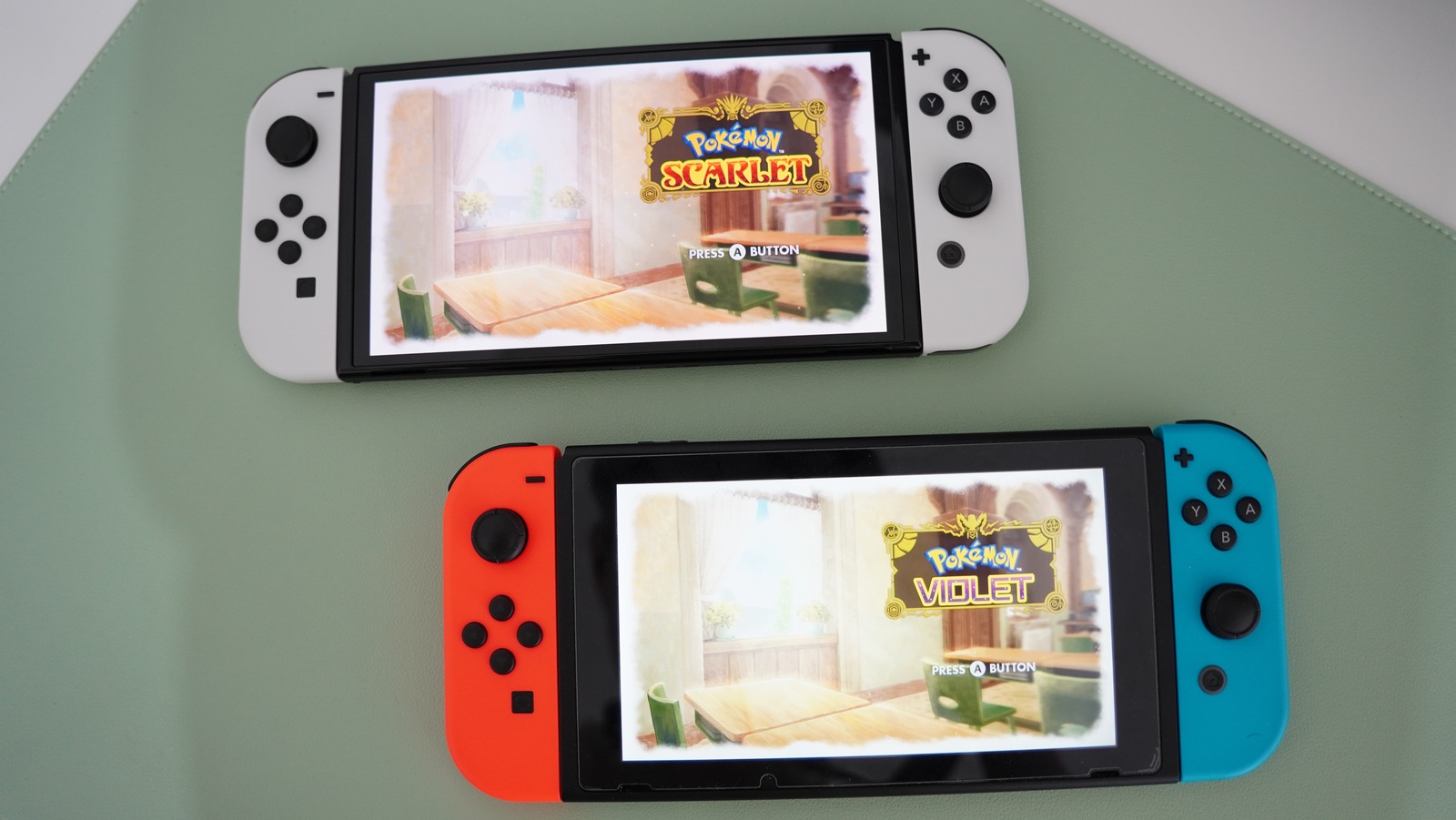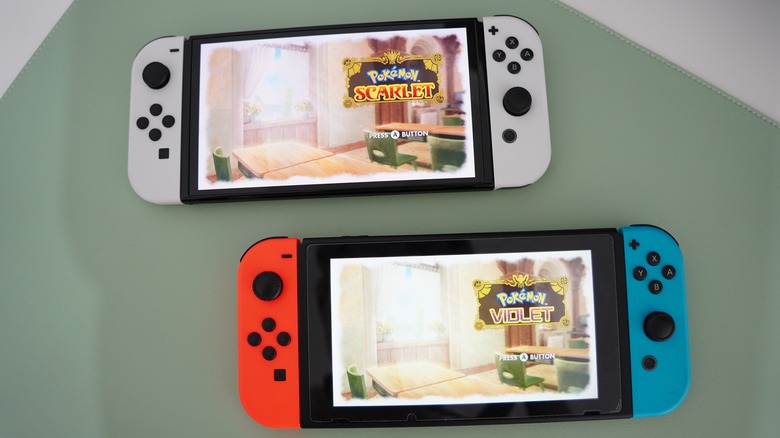 Vcliex/Shutterstock
We may receive a commission on purchases made from links.
One of the best things about the Nintendo Switch is, arguably, the fact that it's a portable console. You can't really pick up an Xbox Series X and keep gaming, but you can do that with the Switch. Whether you prefer to play on your TV or on the go, adding a headset to your Switch is the perfect way to make sure you can game anytime you want without waking your neighbors, your parents, or your spouse — plus the improved audio quality is a perk, too.
When it comes to gaming on a Switch, wireless headsets are often the easier option. After all, using a wireless headset means you can play in docked mode and in handheld mode without any annoying wires getting in the way. However, there are wired options for gamers who don't mind having to deal with cables, and those models are typically much cheaper.
It's important to remember that not all headsets work with the Switch. While there are lots of models that do, don't shop blindly — look for those that specifically list the Switch as a supported device. To save you some time, we've prepared a list of the best five headsets for Nintendo Switch, suited for every budget and use case.
Razer Barracuda X 2022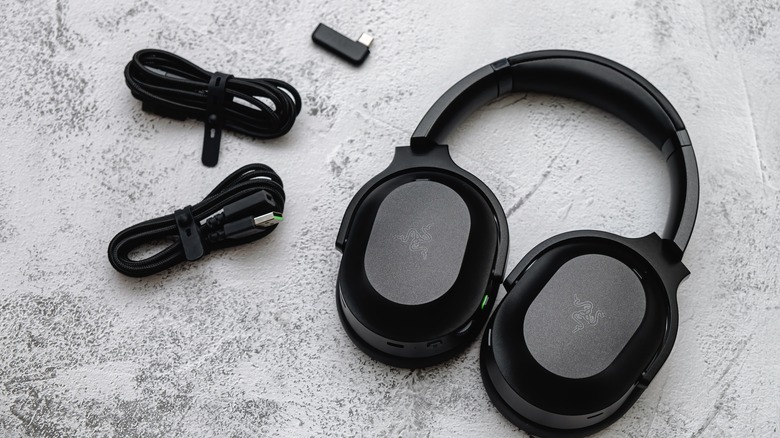 tinhkhuong/Shutterstock
The Razer Barracuda X 2022 is a popular choice for Nintendo Switch users looking for the best headset value for their money. This headset offers a 2.4GHz wireless connection that can be established via Bluetooth or with a USB-C dongle directly plugged into the Switch. This means that, as a player, you get to enjoy high-quality sound transmission without having to deal with the hassle of cables getting in your way. 
While it is still a full-size headset, the Barracuda X only weighs 250 grams, which is important for comfort when wearing it for long hours. The battery life can last up to 50 hours through USB-C charging, and Razer offers a supplemental app that allows you to check your battery status, plus make customizations to the EQ and other features. 
Not only can it connect to the Switch, but you can also use it with a smartphone or other Bluetooth-capable devices, such as the PlayStation or PC. This headset can be purchased for around $90, making it a reasonably-priced option for a wireless pair of cans.
SteelSeries Arctis Nova 1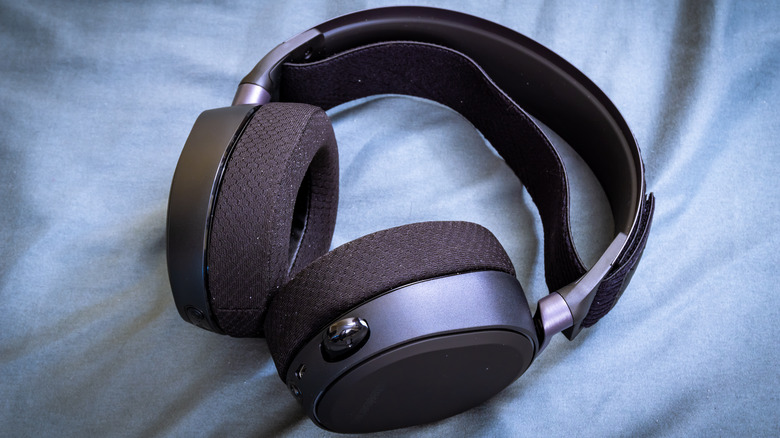 LnP images/Shutterstock
The SteelSeries Arctis Nova 1 gaming headset offers an immersive audio experience with its 360° Spatial Audio feature, which enhances directional sound in games. Onboard controls allow easy volume adjustment and muting. The headset only weighs half a pound, or 236 grams, and offers 4 points of height adjustability for a comfortable fit. The AirWeave Memory Foam cushions help the headset fit comfortably and keep your ears from overheating. 
This SteelSeries headset offers decent microphone quality, which isn't super relevant in many Switch titles, but it's still nice — all thanks to a ClearCast Gen 2 microphone that minimizes background noises. If you want a sleeker look, the microphone can be retracted into the earcup, which is a nice option for those that are more concerned with audio in than audio out. The headset uses a universal 3.5mm connection that makes it compatible with Xbox, PC, Mac, PlayStation, and of course, the Switch. The headset sells for around $60, making this one of the lower-cost options. 
Skullcandy PLYR 1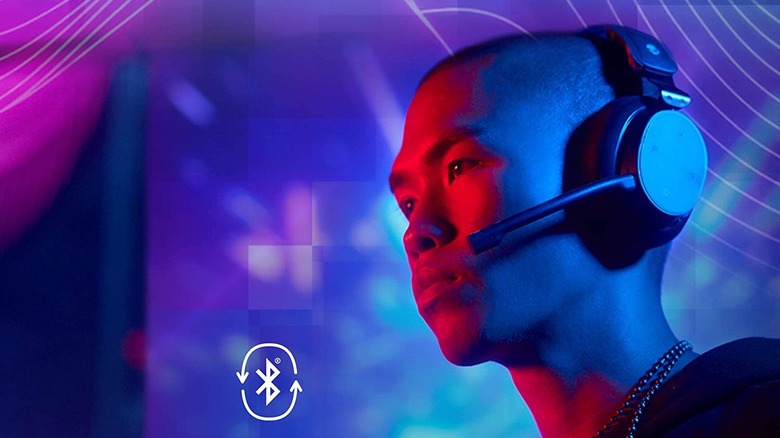 The Skullcandy PLYR 1 over-ear gaming headset is not the cheapest on this list, but still has an impressive list of positives. The headset has a total battery life of 24 hours and offers rapid charging capabilities so you can enjoy your Switch gaming with minimal risk of your headset dying mid-game. The microphone features include a detachable boom, Clear Voice Smart Mic, LED Mic Mute Indicator, and a secondary mic. The headset also has onboard controls you can use for powering on and off, Bluetooth pairing, adjusting the volume, mic muting the microphone, sidetone, EQ modes, and switching between play and pause.
The PLYR 1 has one specific feature that sets it apart from other headsets: Tile incorporation. The headset uses Tile App technology as a tracker, meaning if your headset is misplaced or stolen you'll be able to locate it through the Tile technology. The price comes in at around $130, though be aware that if you want to take advantage of the wireless feature you'll have to buy an additional adapter through Skullcandy.
Corsair HS70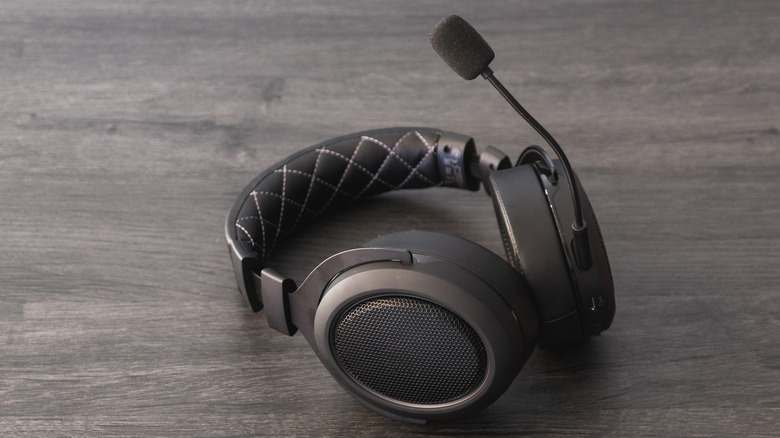 Alberto Garcia Guillen/Shutterstock
If you're into chatting, you may want to look for a headset where the microphone and a variety of audio streaming options are the focus. The Corsair HS70 Bluetooth is a good option for that. With this one, you can use both in-game audio and online chat built into the Nintendo Switch simultaneously, which not every headset allows. Both channels stream using the 3.5mm and Bluetooth dual connection. The headset retails for around $100, so you may be paying a little more for the feature, but for chatty people, the investment will most likely be worth it. 
In terms of sound quality, you're still coming up on top. The only real drawbacks to the Corsair HS70 come in the form of a little added weight compared to other options on this list, and the fact that the Bluetooth option only works for Nintendo Switch and PC users. If you want a headset that can switch between platforms, be aware that you'll need to use a wired connection with Xbox and PlayStation systems.
Audio-Technica ATH-G1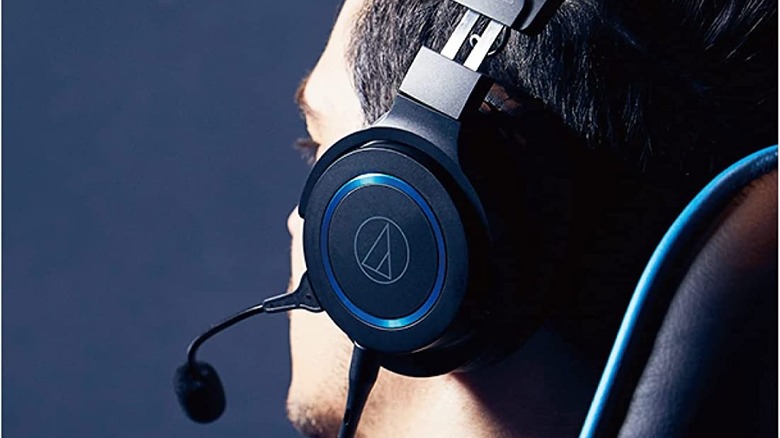 Our final choice for the best Nintendo Switch headset is for those with a little more coin to drop. At around $170 retail, the Audio-Technica ATH-G1 comes with a higher price tag than the others we've written about, but it also promises to do more for your gaming experience.
One of those promises is studio-quality sound. This is accomplished by using large-diameter 45 mm drivers that are specially tuned. Combining this with a high input capability (at 1300 mW) means that the headset can handle amplified sound with greater ease than some of the lower-cost options. Users report that the padding is comfortable and easy to wear for longer periods of time, and that the included cable is a good length for convenience. 
The headset also comes packaged with a detachable professional-grade microphone and includes accessories like a Y-type stereo headset cable for splitting headphone and microphone signals, and a windscreen, so while it may cost more, you save on not having to buy the extras. If your Nintendo Switch gaming experience is important enough for you to feel like it deserves high-quality equipment, this is one to explore.